No More Ads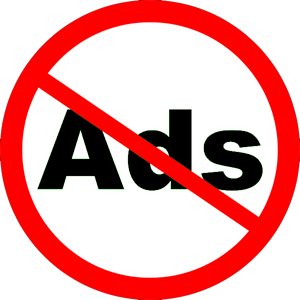 Do you ever wish you could control what appears on your screen at all times when surfing the net? Do you ever get distracted or pulled to another site, article, or game only to forget what you intended to do in the first place? Well, you can take back some of the control and your productivity in one easy step: by installing an ad blocker.
Some of the best ad blockers go beyond just ads, but actually block other elements of web pages designed to pull your information or run extra scripts and more. All of which can lead to negative consequences. Installing an ad blocker gives you greater privacy, no tracking, fewer distractions, fewer embarrassing moments due to risque ads, is more family-friendly, among others. It will even help pages load faster due to ignoring all of the "bloat."
*Note: Some ads are actually legit, and do help site or content owners make money for their time and costs of hosting the site. The great thing about ad blockers is you can whitelist sites such as these to help support pages you most frequent, etc.
I recommend 2 ad blockers.
uBlock origin – Personally, this is one of the best I've used. It does a little of everything with no noticeable performance hit. Please note this is "uBlock Origin" by Raymond Gorhill, and is not associated with uBlock.org
AdBlock Plus – This comes in close second to uBlock origin. I used this for many years and it's still a great blocker in active development. Sometimes, it can be a bit more user-friendly than uBlock, but it does block fewer of the "extras."
For even better security and privacy, you could use NoScript (Firefox browser only). That is a bit more technical; however, so I will not go into detail in this post.
You can test your ad blocker here.